About Stuart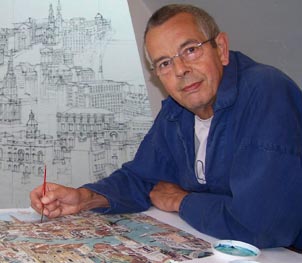 Show someone a picture by Stuart and there is a good chance they will say; 'Oh yes, I've seen his work somewhere before'. That's because since 1990 thousands of his limited edition prints have been purchased by collectors in the UK and world-wide. It was not always thus...
Born in Birmingham in 1946 he went to school in the Midlands, travelled widely in the 60's including USSR and USA, then graduated from college in Coventry as a town planner. His travels and study of townscape led to his fascination with cities, emerging 25 years later when he left his local government career to become a painter.
Starting with house portraits, he met someone who asked if he would paint his town to include various landmarks. This led to his first capriccio and the decision to try out this approach elsewhere.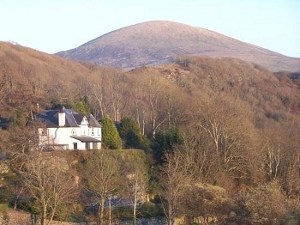 Initially Stuart went from town to town around his home county of Cheshire creating compositions and publishing them as limited edition prints. Early recognition by the sale of his original Macclesfield to the late Brian Redhead was the sort of encouragement a new artist needs. His work became more publicised when The Prince of Wales added his Chester print to his collection at St James Palace, and in 1994 The Queen had his Manchester hung at Buckingham Palace following her visit to the city. Witness to his success has been the number of artists imitating his capriccios and the high price collectors pay for his original watercolours. At the last count his prints have found their way into more than 30 countries world-wide.
He developed his style through the 1990's by selecting landmarks, historic buildings, quirky structures, etc. seeking to get the feeling of a city into an imaginary composition. He freely moved buildings about, but sought some geographical sense. Stuarts creative work takes place on the drawing board - not the computer. After intial sketches he draws the whole composition in pencil, after many modifications he inks it all in and finally paints with watercolour, making sure to include himself and family members in the picture.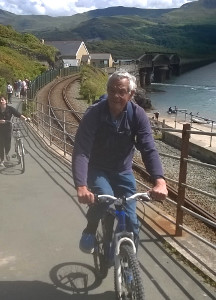 Stuart invented the term 'panoriccio' for his style, being a combination of 'panorama' (the aerial view of the city) and 'capriccio' (the artist being capricious with the truth). The 'bird's eye view' became popular as early as the 16th Century in Europe and his capricious approach has roots in the 18th Century work of Canaletto and Di Guardi, who sometimes resited buildings to benefit their Venetian compositions.
Due to the time taken to produce each painting Stuart has not been attracted to competitions and exhibitions. However he was persuaded to enter The Sunday Times Watercolour Competition in 2007 and 2009 and on both occasions his submissions were selected for the final exhibition at London galleries. His Venice was sold from the exhibition.
Although moving to a Welsh rural environment near Harlech, Stuart concentrated on painting major cities. The success of his first London painting led to further compositions of the capital city, he has now completed six. Stuarts overseas subjects now include Sydney, Boston, Dublin, Venice and New York. He won't run out of subjects, just the time to paint them ! His latest took five years and was a welcome return to Liverpool albeit published in the midst of the pandemic.