"London - Sporting City"
London Cityscape Prints by Martin Stuart Moore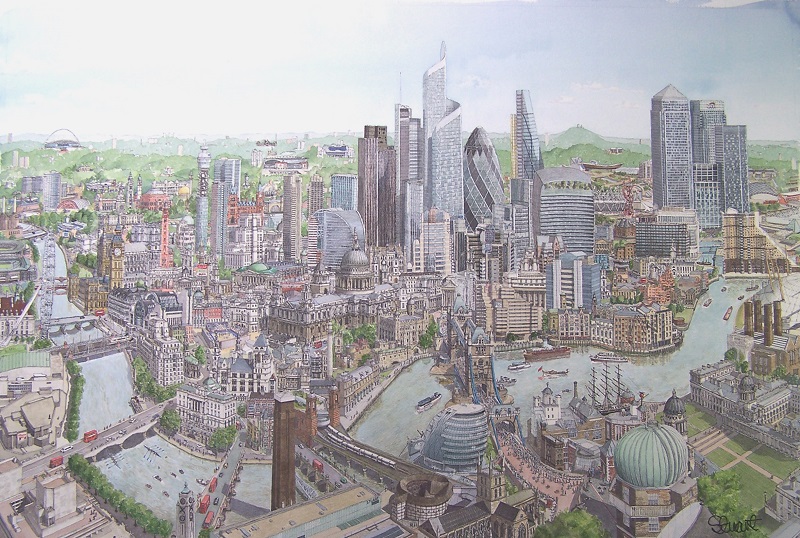 London cityscapes have become Stuart's principal subject over the last 20 years and this new version adds to his other panoricci such as Venice, Sydney, Boston, Edinburgh, Bristol etc. After two years on the drawing board Stuart's latest view of the city was published in July 2012. His sixth version of the London cityscape views the metropolis from an imaginary viewpoint at Greenwich, looking north and west.
After themes of the Millennium, Golden Jubilee and the world status of London in his five previous paintings, this work includes some sporting connections, along with his favourite iconic landmark buildings as well as others that took his fancy.
During the long course of one of his panoriccio compositions events happen and some end up in the picture. For example, the protesters tents outside St Paul's Cathedral, the News International HQ in Wapping, the broken oar in the Oxford and Cambridge boat race, as well as Jubilee Pageant on the Thames.
The London sporting city theme is represented by the London Marathon, the Boat Race, Wimbledon, as well as many football stadia. In addition to a major summer event in 2012, Stuart felt he should mark Chelsea FC securing the European Cup. This he did by placing the winners silverware alongside Stamford Bridge - difficult for an artist who supports Manchester United.
As always, Stuart's composition springs from his imagination but is rooted in the geographical realities of the London cityscape. The original watercolour painting has been scanned and printed as a limited edition of 2012 prints, each signed and numbered by the artist. They measure approximately 20 by 30 inches and have been reproduced using light fast inks on acid free paper. A key to the landmarks and certificate of authenticity is supplied with every print.