"Memories of Manchester"
Manchester Prints by Martin Stuart Moore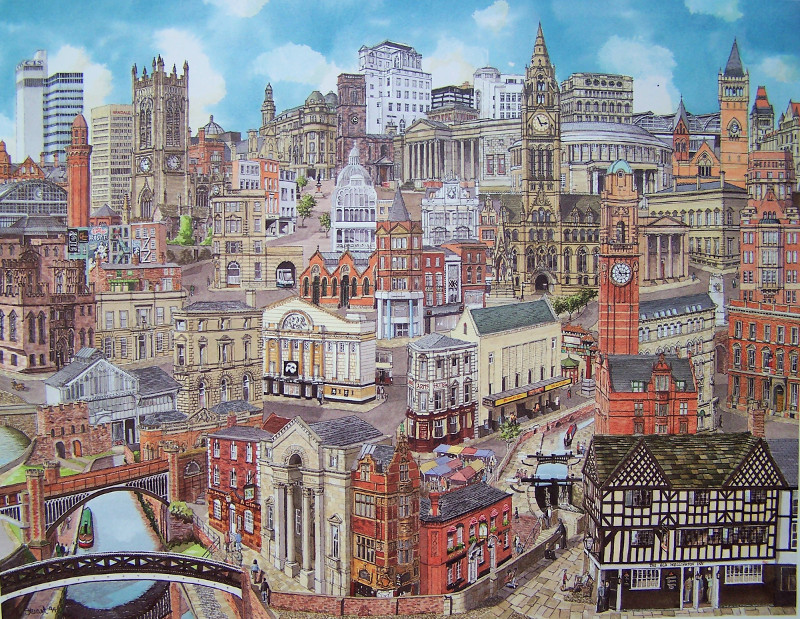 After the development of my capriccio style, painting Cheshire towns in the early 1990's, I felt the time had come to see if I could do justice to a large city. The Manchester cityscape — the one down the road from me — revealed nooks and crannies that I had not previously come across. Particularly interesting was the assumption that I knew the geography of the city, and I soon realised that I did not have a clear mental map of the centre. This was all put right starting early one Sunday morning and walking, and walking. . . for six hours. It became clear that good orientation helped enorously with the composition of my Manchester painting. The colours of the stone and brick in this prosperous Victorian city, the quality of the architecture, and the omnipresence of canal or river, made this an exciting project. It also gave me the confidence to consider that I could tackle more complex and larger cities.
An extra tinge of interest came with the Queen's favourable comment on my Manchester print and its hanging in Buckingham Palace. Since my painting, the savage bomb of 1998 blew up a corner of the centre. This was rebuilt, and there was more to come. After the explosion the most prominent building in my composition, The Wellington Inn, ended up being moved beam by beam and relocated to a site by the cathedral to enrich the Manchester cityscape. The terrible circumstances of that event resulted in what I did on paper, happening in reality!