"Memories of New York"
New York Cityscape Prints by Martin Stuart Moore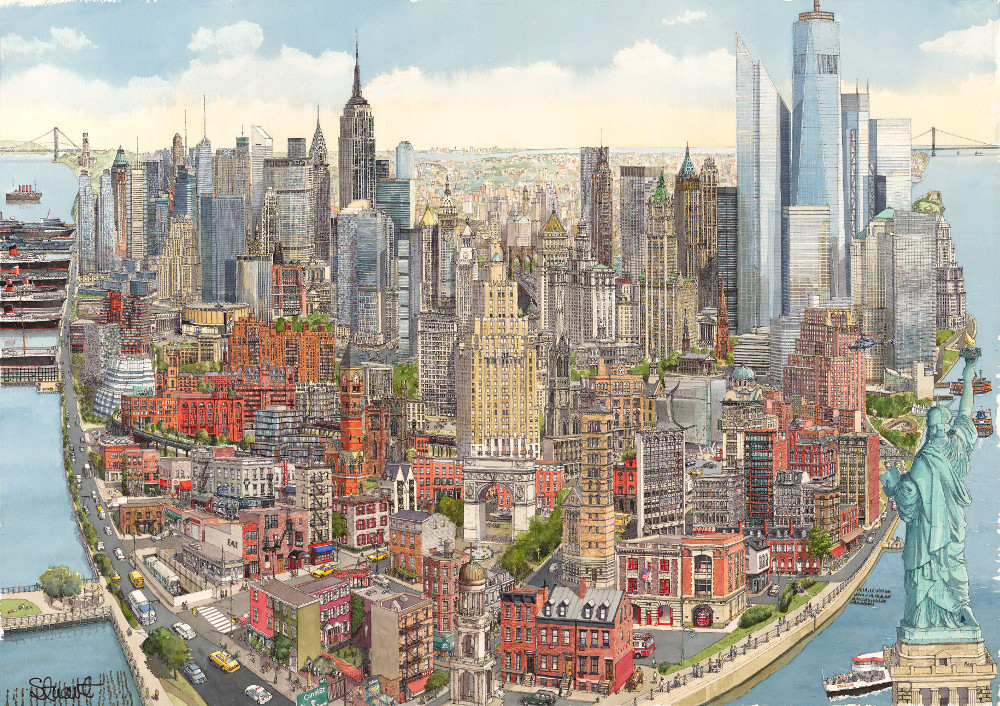 After six different visions of London and overseas cities of Dublin, Sydney, Venice and Boston, there were too many enquiries about the Big Apple for Stuart to ignore. His intention was to create a New York painting as his first American venture, but the disaster that befell the city in 2001, made him feel it was inappropriate at that time.
Twelve years saw a lot of change and the completion of the highest World Trade Centre building in 2013 suggests it was a good time to publish his New York cityscape painting.
With the focus on Manhattan, choosing the right vantage point for his panoriccio was very important. A view from Lower Manhattan would be constrained by the height of the buildings in the Financial Centre, and the same problems would emerge with a view from Midtown or around Central Park.
The answer was to imagine a elevated viewpoint over the Hudson River around Greenwich Village, thus preventing the towers of Midtown and Lower Manhattan dominating his New York painting. The historic buildings in Chelsea, the Village, SoHo and Tribeca then had a chance to get seen.
Stuarts love of Atlantic liners had an outlet with Chelsea Piers being in a fairly prominent position on the Hudson. American, British and French ships appear, for two of which this was their final port of call.
As always, Stuart's composition springs from his imagination but is rooted in the geographical realities of the New York cityscape. The original watercolour painting has been scanned and printed as a limited edition of 2500 prints, each signed and numbered by the artist. They measure approximately 20 by 30 inches and have been reproduced using light fast inks on acid free paper. A key to the landmarks and certificate of authenticity is supplied with every print.